About Us
Our Founder's Story
Chieko Egged worked in the beauty industry for twenty years. During this time she was exposed to many synthetic chemicals which caused her to develop severe eczema. Although she was married to a dermatological surgeon and received the best care, the steroid medication and treatments did not heal her condition.
Chieko made a complete lifestyle change by moving to Hawaii. She studied traditional Hawaiian plant properties, naturopathy, aromatherapy, and Ayurveda while working with experts including holistic doctors and kahuna healers. She learned about blending botanical ingredients in ways that cause positive chemical reactions and brought out the best properties of each ingredient. With this knowledge, Chieko was able to heal her skin condition and Kahala Organics was born. She developed this line of holistic skin care products that are safe and effective against aging through the healing power of nature's ingredients and the mana of Hawaii without being harsh or damaging.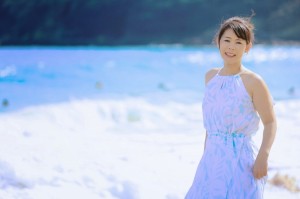 Chieko & Green Spa Hawaii Featured in Honolulu Star Advertiser in January 15, 2015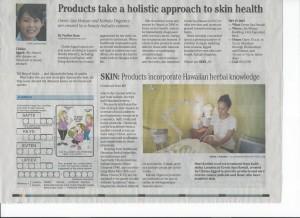 Story From Today's Star Advertiser
Chieko Egged spent several years working in Japan's beauty industry, including running a nail salon, until being sidelined by eczema aggravated by her daily exposure to chemicals. When traditional treatments such as steroid medications did not heal or relieve her condition, she knew she had to make radical changes in her life.
She closed her salon and moved to Hawaii in 2004 to focus on her health, only to be immediately diagnosed with cervical cancer. During her treatment she learned of a lack of skin products available for those with immune disorders or undergoing chemotherapy.
After her own treatment and recovery, she launched Beauti Therapy LLC and opened Green Spa Hawaii in 2012 to offer services and products geared toward oncology patients.
More recently, concerned about a growing number of children in Japan suffering from eczema, Egged launched her own skin care brand, Kahala Organics, which she created with input from holistic doctors and Hawaiian healers.
She partly attributes the rise of atopic skin disease to overuse of food additives and hazardous chemicals in cosmetics, bath, body and home products. Chemicals can be transferred from a mother's blood to her unborn baby's blood, and exposure can lead to allergies and sensitivities to those chemicals.
Drawing from traditional Hawaiian herbal remedies, aromatherapy and Ayurvedic Hindu medicine, Kahala Organics Mana Cleanser ($48), and moisturizing Mana Mist ($55) and Mana Cream ($118) are formulated to be gentle on skin without "parabens," dyes, fragrances, alcohol, mineral oil and lanolin. A mask product and eye cream are in the works.
Kahala Organics products are available at the spa or online at http://kahalaorganics.ocnk.net/
by Beauti Therapy LLC
PO Box 22391
Honolulu, HI 96823, U.S.A.